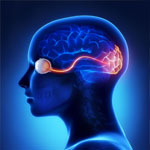 The beginning of the week started off with the students being given some visual tests specifically designed to determine their ability to see contrast differences in black / white / gray and color.
Also, at the beginning of the week, the students were given lecture on searching smart clues as a refresher. Other topics covered early on were skin diseases, abnormalities and fingerprint mutilation (past and present).
The students also learned about the unique ridge flow characteristics of plantar impressions (bare footprints). They were given a comparison exercise consisting of 9 sets of known footprint exemplars and 25 latent prints of varying levels of difficulty.
Later in the week there was lecture on examiner ability, form blindness, types of bias, ethics and criminal behavior (with past case examples of mistakes in forensics), how vision works, perception/illusions, mindset, memory and how all of these can play into the mind of the examiner before and during the examination. This lecture was specifically placed to reinforce the concepts utilized in the tests given earlier in the week in an attempt to bring the two together. It is hoped that the students learned a lot about what goes on in the mind of an examiner prior to examination, during the examination and at the moment of decision.