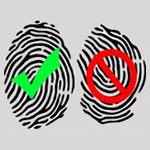 This week a lot of time was spent working on comparison exercises and helping the students get back into academy mode. This week's lecture was spent discussing the standards for conclusions. The students discussed the following topics.
- Sufficiency and for what purpose (ID or Comparison)
- Reproducible target groups
- Identification / Individualization
- Exclusion / Elimination
- Inconclusive / Insufficient
- What is enough?
- Specificity
- Quantity/Quality Spectrum
- One discrepancy and Close non-matches
- Type 1 (false positive) and Type 2 (false negative) errors
- Exclusion research
- 100% review/verification
- Appropriate reasons for an Inconclusive decision