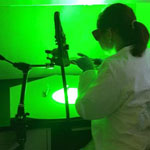 This course was designed to teach the participant the fundamentals of latent print development techniques for porous and non-pours items of evidence as well as exhibits that are not so routinely submitted to the laboratory for latent print processing through practical exercises, lectures, and discussions in a state of the art laboratory.
An understanding of the following principles were taught and applied through hands on workshops:
Porous latent print processing techniques such as 1,2-Indanedione, DFO, Ninhydrin, Oil Red O.
Blood specific latent print development techniques such as amido black and leucocrystal violet. Techniques to processes latent prints in blood on difficult and problematic surfaces.
Processing techniques that included best practices for removing different types of tape from evidence and best practices for various substrates that the tape could be on. Also, processing the adhesive side for latent prints using sticky side powder, TapeGlo and Gentian Violet.
Processing techniques for complex surfaces and multiple substrate challenges and the techniques to apply proper sequential processing practices.
Processing techniques for oily and greasy items of evidence with latent print development techniques using sudan black.
Students research literature and performed literature reviews to investigate how to process challenging items of evidence and methods to perform validation studies.
Students had the opportunity to work in groups processing items that they will encounter quite often and not so often in their career.