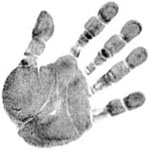 Ron Smith spent the majority of the week providing detailed instruction to the class on the specific nuances of palm prints to include ridge flows, crease formations, latent palm print shapes, and combinations of all of these in various levels of difficulty.
Numerous practical exercises and individual palm print challenges were completed, some of which had to be defended by each and every member of the class. No sitting back in the shadows in Ron's Class!
At the end of the week, the students were presented with a final challenge for the week which included a written exercise of 50 very specific questions about palms along with a visual evaluation of 20 partial latent palm prints in which the palmar area of origin, which hand, and correct up and down position had to be determined.  This allowed for three potential errors for each latent print, and understandably, the students were more than pleased when they could tell Ron good-by for the week.