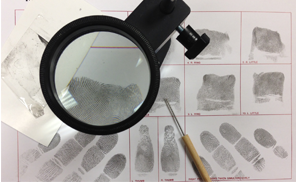 RS&A headquarters laboratory is accredited to the ISO/IEC 17025 standards in which we examine latent prints, footwear and tire track evidence. Our laboratory is staffed by Certified Latent Print Examiners and Certified Footwear Examiners who have all been tested by the International Association for Identification. If physical processing of your evidence is required then our headquarters laboratory is ready to assist with its' full cadre of specialized equipment and reagents for the very latest in latent print, footwear, and tire track evidence examination.  Our headquarters facility is a full service facility for impression type evidence. Whether your project contains 300 cases or 3000 cases, we can make it happen.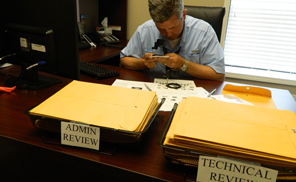 In today's forensic environment there exists a significant number of agencies who are unable to retain sufficient forensic scientists to keep their technical reviews and verifications on site. This creates a situation in which they are required to travel to a sometimes distant location to find a qualified impression evidence examiner who can and will provide them with the required second opinion. Although this certainly is a viable option for those who have the time to do so, there is a second and more efficient option which can be employed. Through the secure electronic transfer of the case images, an agency examiner can gain access to an entire team of highly qualified and experienced certified examiners who can provide that independent review needed. When you hire RS&A to be your "second" examiner, you are
hiring a team of
experts
, not just one, although the costs are the same as if it were just one. Due to our large number of full time credentialed experts, we can at any time handle multiple requests from around the country or around the globe. It is what we do.