CLICK A RED STATE TO SEE STATE SPECIFIC STATUTES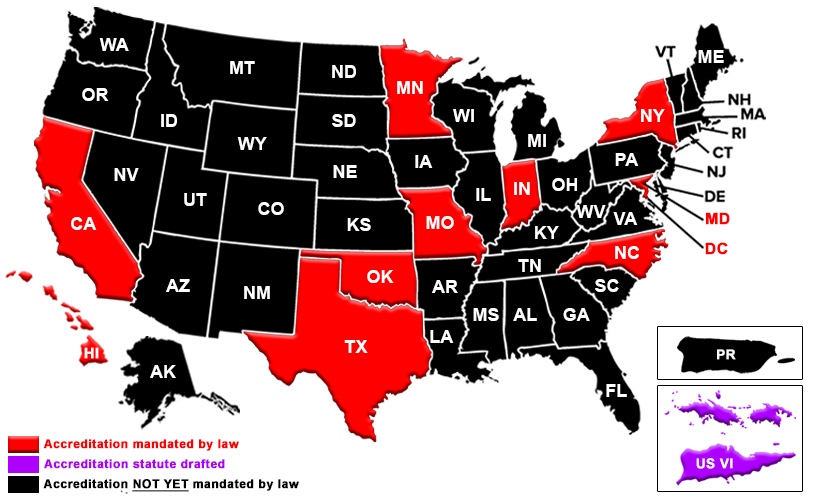 Accreditation programs are the primary method states use to ensure their laboratories follow best practices. As we have seen in recent years, more and more states are statutorily requiring accreditation for some or all examinations conducted at their forensic labs. Agencies that do not have a full service crime laboratory but does provide limited services in crime scene, latent print, firearms, or controlled substance examinations will likely fall under these same statutory requirements soon. Be proactive; don't wait for legislators to come up with your game plan. Your clients are counting on you. It is not a matter of "if" but "when" this is coming your way.

The quality specialists at Ron Smith & Associates have helped organizations achieve accreditation to ISO/IEC 17025, 17020 and 17043. We've developed a process of mentoring that can assist any agency recognize their goals. There are several steps involved such as writing policy and procedure manuals, conducting internal audits, and performing corrective action. Our mentors can provide guidance with individual tasks (like gap analysis or internal audits), or we can assist you from beginning to end. The choice is entirely yours.

Your agency doesn't have to approach accreditation alone. Having a trusted and experienced partner can help you achieve sustainable success. The RS&A quality management staff are available to discuss details of the mentoring process and help you determine the best option for the realization of your goals.

Disclaimer: These codes may not be the most recent version. The Secretary of State offices for each state may have more current or accurate information. We make no warranties or guarantees about the accuracy, completeness, or adequacy of the information contained on this site or the information linked to on the state site. Please check official sources.
District of Columbia
Hawaii
Indiana
Maryland
Minnesota
Missouri
Nebraska
New York
North Carolina
Oklahoma
Texas
US Virgin Islands