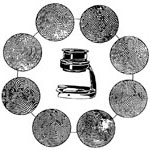 Week 1 was all about taking the first steps in a twenty week process to gain the knowledge of how to evaluate, compare, and identify friction ridge skin. This was accomplished by some independent study and one-on-one mentoring from one of our RS&A instructors. Throughout week 1, the students were constantly challenged through a series of lectures, practical exercises, and drills that have been specifically designed to increase each student's knowledge while beginning to build their confidence in the usefulness of the science, and their ability to use it properly.

Many different facets of friction skin examination were explored and discussed such as the history behind our science and the challenges associated with the science. A great deal of time was spent learning how to use all three "levels of detail" and apply ACE-V methodology as the basis for the examination process. Each student was taught the "language" of friction skin examination (the vocabulary) so that they can effectively communicate with each other, the instructors throughout the program and their peers once they return to their agencies. An in depth understanding of pattern recognition, "ridge flows" creases, focal points and other level one details were absorbed after hours of using them as part of the skill building exercises in class as well as various "homework" assignments to continue the learning process.

Each student now has a clear understanding of the principles underlying the science and as a result, they now have a practical, functional knowledge of how to examine friction skin in preparation for the remaining weeks of training.
CLICK A THUMBNAIL IMAGE BELOW TO VIEW A LARGER IMAGE SLIDESHOW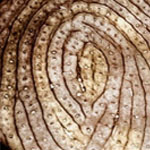 This course was designed to continue to grow the student's knowledge base as we dove head-long into the science behind the uniqueness and persistence of friction ridge skin. We covered embryology, histology, glands, secretions, and wound healing in an attempt to grow the confidence of the students in the science behind their conclusions. We also spent a significant amount of time on the history of fingerprints, ridgeology theory and technique, searching smart, orientation, target group selection and analysis phase of ACE-V. The students worked through Comparison Exercise B which contained 80 latent prints and an additional comparison exercise that contained 10 latent prints.
CLICK A THUMBNAIL IMAGE BELOW TO VIEW A LARGER IMAGE SLIDESHOW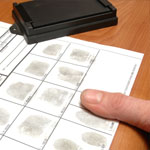 Week 3 focused on the required materials and proper technique for recording known exemplars for use in latent print comparisons. The class learned how to collect known tenprints with printer's ink and worked at obtaining a perfect set. They also explored other options to printer's ink, such as ceramic pads, porelon pads, flawless ink pads and inkless methods. They were required to provide a set of known exemplars using each inking option. In addition to the standard fingerprint cards, they collected rolled and plain palm prints, foot prints and two sets of complete friction ridge exemplars (major case prints).

The students learned about taking postmortem exemplars under various conditions and had the opportunity to take a trip downtown to our local coroner's office to practice using postmortem spoons on a recently deceased individual. They also learned about the process of using powder and Mikrosil as an alternative to obtaining known prints.

The students had the opportunity to learn the proper procedure for entering in an applicant's information and taking their known prints via livescan technology. The students also practiced dusting the fingers, palms and feet with powder and using a lifting material such as "Handiprint" to record the known exemplars.
CLICK A THUMBNAIL IMAGE BELOW TO VIEW A LARGER IMAGE SLIDESHOW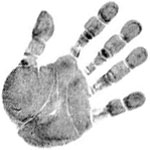 Ron Smith spent the majority of the week providing detailed instruction to the class on the specific nuances of palm prints to include ridge flows, crease formations, latent palm print shapes, and combinations of all of these in various levels of difficulty.

Numerous practical exercises and individual palm print challenges were completed, some of which had to be defended by each and every member of the class. No sitting back in the shadows in Ron's Class!

At the end of the week, the students were presented with a final challenge for the week which included a written exercise of 50 very specific questions about palms along with a visual evaluation of 20 partial latent palm prints in which the palmar area of origin, which hand, and correct up and down position had to be determined.  This allowed for three potential errors for each latent print, and understandably, the students were more than pleased when they could tell Ron good-by for the week.


CLICK A THUMBNAIL IMAGE BELOW TO VIEW A LARGER IMAGE SLIDESHOW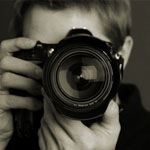 Week #5 was dedicated to the fundamentals of photography. The course covered essential techniques for capturing high resolution images as well as discussion on how those elements determine the final captured image. The students learned that photography is not just a "point and shoot" process. The students worked on many exercises that apply to every aspect of photography in and out of the lab. This allowed the students not only to understand the complete functionality of their own camera, but to also be creative in thought process.

The following concepts were taught, discussed, and applied in assignments, both in and out of the classroom during the week:

- Camera History
- Camera Modes
- Types of camera lenses
- Digital v Film
- Types of digital sensors
- Types of memory cards
- Digital file types
- Digital image quality & size
- Camera laws
- Camera Nomenclature
- Field of view v Angle of view
- Focusing and Metering Modes
- White Balance
- Exposure and bracketing
- Exposure Compensation
- Histogram
- Shutter Speed
- Capturing moving objects
- ISO (film speed)
- Aperture
- Depth of Field Exercise
- Types of lighting
- Macro/Close-up Exercises
- Painting with Light
- Filling the Frame
- Perspective

CLICK A THUMBNAIL IMAGE BELOW TO VIEW A LARGER IMAGE SLIDESHOW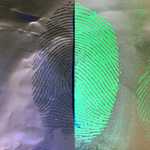 This course was designed to teach the participant the fundamentals of basic latent print development techniques through practical exercises, lectures, and discussions. An understanding of inherent florescence, cyanoacrylate fuming, RUVIS, and powder processing techniques were included as well as laboratory safety, handling of evidence, and hands on workshops that teach the student what really works in the field. Students had the opportunity to work in groups processing items that they will encounter quite often in their career and learning what to do and what not to do to successfully develop the prints that will help them catch the bad guy.
CLICK A THUMBNAIL IMAGE BELOW TO VIEW A LARGER IMAGE SLIDESHOW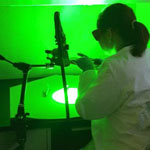 This course was designed to teach the participant the fundamentals of latent print development techniques for porous and non-pours items of evidence as well as exhibits that are not so routinely submitted to the laboratory for latent print processing through practical exercises, lectures, and discussions in a state of the art laboratory.
An understanding of the following principles were taught and applied through hands on workshops:
Porous latent print processing techniques such as 1,2-Indanedione, DFO, Ninhydrin, Oil Red O.
Blood specific latent print development techniques such as amido black and leucocrystal violet. Techniques to processes latent prints in blood on difficult and problematic surfaces.
Processing techniques that included best practices for removing different types of tape from evidence and best practices for various substrates that the tape could be on. Also, processing the adhesive side for latent prints using sticky side powder, TapeGlo and Gentian Violet.
Processing techniques for complex surfaces and multiple substrate challenges and the techniques to apply proper sequential processing practices.
Processing techniques for oily and greasy items of evidence with latent print development techniques using sudan black.
Students research literature and performed literature reviews to investigate how to process challenging items of evidence and methods to perform validation studies.
Students had the opportunity to work in groups processing items that they will encounter quite often and not so often in their career.
CLICK A THUMBNAIL IMAGE BELOW TO VIEW A LARGER IMAGE SLIDESHOW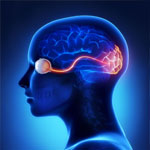 This week was dedicated to increasing the comparison skill set of the students. Therefore, the majority of the week was spent working on comparisons exercises.

The beginning of the week started off with lecture on searching smart clues, which seemed to be a good refresher. Other topics covered early on were skin diseases and abnormalities and fingerprint mutilation (past and present).

Also, at the beginning of the week, the students were given some visual tests specifically designed to determine their ability to see contrast differences in black/white/gray and color.

Later in the week there was lecture on examiner ability, form blindness, types of bias, ethics and criminal behavior (with past case examples of mistakes in forensics), how vision works, perception/illusions, mind set, memory and how all of these can play into the mind of the examiner before and during the examination. This lecture was specifically placed to reinforce the concepts utilized in the tests given earlier in the week in an attempt to bring the two together. It is hoped that the students learned a lot about what goes on in the mind of an examiner prior to examination, during the examination and at the moment of decision.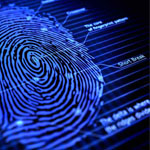 Week 9 focused on automation and how it affects examiners on a daily basis. The students learned about the need for and the history of automation. This included the evolution of livescan and Automated Fingerprint Identification System (AFIS). Multiple AFIS platforms were explored.

Everyone had the opportunity to mark fingerprint minutiae using the Universal Latent Workstation (ULW) software. The students were also able to enter and search latent prints against a robust fingerprint and palm print database using a fully functional AFIS, the AFIX Tracker from AFIX Technologies.

Later in the week, the students learned about the unique ridge flow characteristics of plantar impressions (bare footprints). They were given a comparison exercise consisting of 9 sets of known footprint exemplars and 25 latent prints of varying quality.

The week concluded with demonstration of livescan technology for capturing and transmitting fingerprints and palm prints.
CLICK A THUMBNAIL IMAGE BELOW TO VIEW A LARGER IMAGE SLIDESHOW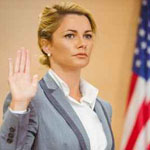 The focus of this week was bringing the students up to speed on general issues regarding courtroom testimony. These topics included discussions about the courtroom and witness room environment, courtroom procedures, understanding the courtroom itself, and how to move and function within the courtroom. How to understand direct examination and how to handle evidence prior to and after admission were also covered. A significant portion of the class was spent on understanding the role of judge, prosecutor, defense counsel, and the jury. Students were carefully instructed on how to develop a trusting relationship with the jury as part of their duties as a witness.

Multiple examples of defense strategies and methods of cross examination were demonstrated for the class as well as the methods of handling cross examination in the most professional manner. This class serves as a precursor for the expert witness testimony segment of the academy which comes later on in the schedule.

CLICK A THUMBNAIL IMAGE BELOW TO VIEW A LARGER IMAGE SLIDESHOW