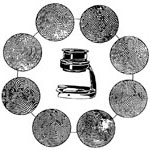 Week 1 was all about taking the first steps in a twenty week process to gain the knowledge of how to evaluate, compare, and identify friction ridge skin. This was accomplished by some independent study and one-on-one mentoring from one of our RS&A instructors. Throughout week 1, the students were constantly challenged through a series of lectures, practical exercises, and drills that have been specifically designed to increase each student's knowledge while beginning to build their confidence in the usefulness of the science, and their ability to use it properly.

Many different facets of friction skin examination were explored and discussed such as the history behind our science and the challenges associated with the science. A great deal of time was spent learning how to use all three "levels of detail" and apply ACE-V methodology as the basis for the examination process. Each student was taught the "language" of friction skin examination (the vocabulary) so that they can effectively communicate with each other, the instructors throughout the program and their peers once they return to their agencies. An in depth understanding of pattern recognition, "ridge flows" creases, focal points and other level one details were absorbed after hours of using them as part of the skill building exercises in class as well as various "homework" assignments to continue the learning process.

Each student now has a clear understanding of the principles underlying the science and as a result, they now have a practical, functional knowledge of how to examine friction skin in preparation for the remaining weeks of training.
CLICK A THUMBNAIL IMAGE BELOW TO VIEW A LARGER IMAGE SLIDESHOW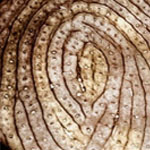 This course was designed to continue to grow the student's knowledge base as we dove head-long into the science behind the uniqueness and persistence of friction ridge skin. We covered ridgeology theory and technique, embryology, histology, glands, secretions, wound healing, and diseases of the skin in an attempt to grow the confidence of the students in the science behind their conclusions. We spent a lot of time on the analysis phase of ACE-V and practically applying it to images of latent prints. Significant effort was put toward searching smart, orientation, target group selection, and methods of comparisons.
CLICK A THUMBNAIL IMAGE BELOW TO VIEW A LARGER IMAGE SLIDESHOW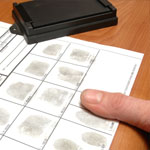 Week 3 focused on the required materials and proper technique for recording known exemplars for use in latent print comparisons. The class learned how to collect known tenprints with printer's ink and worked at obtaining a perfect set. They also explored other options to printer's ink, such as ceramic pads, porelon pads, flawless ink pads and inkless methods. They were required to provide a set of known exemplars using each inking option. In addition to the standard fingerprint cards, they collected rolled and plain palm prints, foot prints and two sets of complete friction ridge exemplars (major case prints).

The students learned about taking postmortem exemplars under various conditions and had the opportunity to take a trip downtown to our local coroner's office to practice using postmortem spoons on a recently deceased individual. They also learned about the process of using powder and Mikrosil as an alternative to obtaining known prints.

The students had the opportunity to learn the proper procedure for entering in an applicant's information and taking their known prints via livescan technology. The students also practiced dusting the fingers, palms and feet with powder and using a lifting material such as "Handiprint" to record the known exemplars.
CLICK A THUMBNAIL IMAGE BELOW TO VIEW A LARGER IMAGE SLIDESHOW